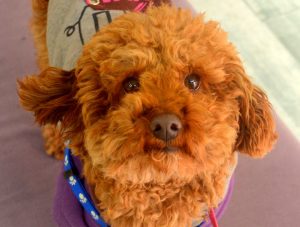 Pet beds provide comfort, security, and protection. A softer spot for your friend to rest on, a place that is all his own, and the bed will contain some of the dander, hair, and dirt your dog would normally deposit while traipsing around your bed and furniture.
The type of bed your dog needs depends on size, age, breed, health, and even the preferred sleeping style. Of course, small dogs need small beds and large dogs need large beds. I make no argument for cats. They sleep wherever they want, no matter how big the space.
Dogs with arthritis could use a bed with more cushioning, while a dog with a double coat could use less because he could get overheated easily. A dog in a fox position may normally feel more cold, so a bed with warm cushioning could be more beneficial.
Wow, this seems like a lot. Let's break it down.
First thing's first: what is the one basic all beds require?
Cleanliness
Smaller dogs need washable bedding.
Larger dogs need bedding with a washable bed cover.
Smaller dog beds can go into front load washers or washers with no center agitator.
Larger dog beds won't fit into washing machines so they need a removable, zip off cover.
We've got odors, dirt, possibly parasites such as fleas (let's face it, sometimes it's the season or your friend rambunctiously gets everywhere).
Important: Washing frequency – shoot for weekly or twice monthly.
Bed Types
There are lots of different bed types to choose from. Here are the best known designs.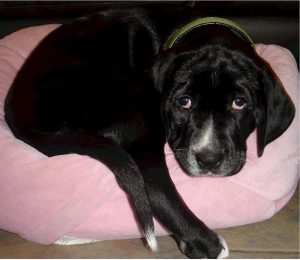 Loose-fill beds:
Large pillow containing fillers.
Filler types include:
Polyester (polyfil) fiber (most common)
Shredded Cedar (Be careful, your dog could be sensitive. In which case, discontinue use!)
Polyfil contain high-loft fibers that can be fluffed and refilled.
Here are a couple of important points to remember:
Fillers can bunch up and break down after long periods of use.
Cheaper beds means cheaper materials and fillers.
It is recommended to look for beds with the following attributes:
Removable covers as fillers DO NOT do well after frequent washings.
Pillows that contain baffles to prevent clumping. Clumping results in areas with no padding.
Beds that can be refilled with more filler.
Waterproof covers or use waterproof throws if your furpal is prone to 'accidents'.
Baffled Polyfil are interlocking poly-filled tubes that form rafts to prevent bunching and provide uniform support.
Loose-fill beds are suitable for:
Older dogs (look for higher quality beds because seniors need more cushioning),
Foam and mattress beds:
The pricing varies depending on quality, construction, and materials.
Foam Types:
Foam (suc

h as Polyurethane)
These are reasonably priced at big name retailers.
Most orthopedic beds will come in this style.
Biggest concern: harmful chemicals.
There are beds such as Buddy beds that advertise that their beds are safe and free from:
Foam and mattress beds are suitable for:
Spoiled dogs that like lots of cushioning or are used to mattresses more suitable for humans.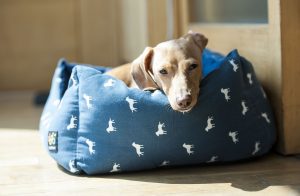 If your dog is a chewer, good materials and construction are absolutely a concern! Please check out Your Dog Advisor's article, "The Best Chew Proof Crate Pad" for more info.
It gives great info on why some dogs chew more than others, what to look for in the best chew proof crate pad for your dog, and they even recommend crate pads that you can check out. They also recommend chew toys that can help.
Bolster  / donut beds:
Have an armrest or pillow.
Types:
They have built-in or removable pillow pads
Bolster  / donut beds are suitable for:
Any dogs that like to sleep with his or her head cradled.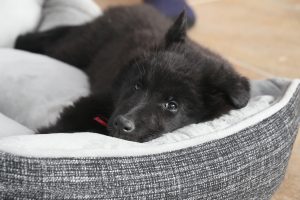 Nesting Dog Beds:
Types:
Nesting Dog Beds are suitable for:
Dogs that like to curl up and / or are prone to feel cold
Mats:
A thin layer of padding.
Provides a layer of protection from floors or bare crate bottoms.
Mats can also be used as protection for upholstery and bedding.
Or over pet bed covers to extend the time between washing periods for those covers.
Lightweight and convenient so mats are perfect to use for traveling.
Mats are suitable for:
large dogs or small dogs (depending on mat size),
Heat mats:
Can be used in addition to a dog bed to provide extra heat.
Certain dogs need help maintaining body heat. Breed, age, size, health, and weather / climate are all factors that may dictate the need for a heat mat.
Types:
Electric (look for pet-safe and UL-approved ones and follow the directions).
Uses the pet's body heat (aka self-warming or self-heating)
The Impulse Notion store carries the iDog's Eco Heat Mat that self-warms. This means that no electricity is needed. Body heat activated, the heat conductive material keeps the mat at a temperature +9 degrees over the dog's temperature.
Heat mats are suitable for:
Any dog that likes it cozy and toasty.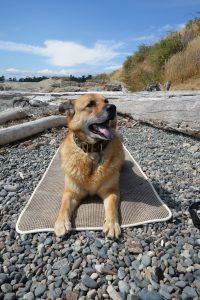 Travel Beds:
Instant bedding for cars and outdoor use.
Types:
All-weather cots and patio beds
Hammock-type / cot beds:
Made of fabric with a solid frame.
Good quality ones can last for years.
Hammock-type / cot beds are suitable for:
Small dogs who do not need much padding.
6 Basic Dog Sleeping Positions
The following are possible bed types based on the 6 basic sleeping positions.
Sleeping Position
Bed Type

fox

nested

side

bolster

passed out

loose fill

superman

stomach curl

crazy legs

cot/hammock or foam mattress
For more info on dog sleeping positions check out this vid:
Summary
There are other types of dog beds including corner beds (for those who don't have a lot of space) and cave beds for dogs who like to burrow. Search for beds that are a good fit for your dog's health, age, size, breed, and preferred sleeping position. And think of pet beds as an investment. If you buy a cheap bed that your dog does not like, you've just wasted your money on a bed he won't use. Or you have to keep replacing the bed because it falls apart too much.
I think of quality investments in terms of cost per year. A good winter coat on sale may run $200. If I can wear this beautiful, classical coat for 20 years, that's $10 a year. A great pet bed is the same way. If it is comfortable, long lasting, and your furbaby loves it, then it is a great investment for his health and well-being (as well as yours). The bed is easy to keep clean, it gives him a sense of security, and you can keep allergic elements (dander, dirt, and possible parasites) contained.
What kind of bed does your friend use? What brands and styles do you recommend? Please comment below!