Final verdict:
Thank you for watching this review of Zack & Zoey's Chevron Fox Hoodie. This video is longer because I wanted to cover my concerns over the construction and fit. Unfortunately, this hoodie is a pass for me. There seems to be the same issue with other clothing where the length is too long and the chest is too tight. However, please keep in mind I am reviewing clothing based on how they would fit on my chihuahua. All dogs are different and some apparel will fit some dogs better than others. But design, construction, and materials are important areas that deal with the quality of the clothing and that is important to all pup parents.
Rating:
2.5 out of 5 stars
Available sizes:
X-Small to Large.
Look:
Warm and comfy. Good for a walk or to slip on and lounge around in.
Style:
Pullover top with some stretch. Fun-loving fox motif and fox ears on the hoodie give it an extra touch of playfulness. Chevron strips are eye catching, as well as the bright orange sleeves, hem, and hood. Your dog would look extra cute in this.
Material:
65% polyester, 35% cotton.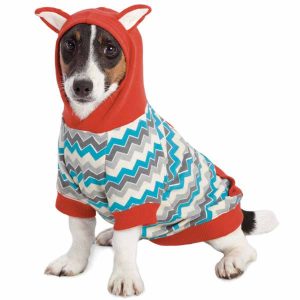 Zack & Zoey Chevron Fox Hoodie
Size chart:
XX-Small: Chest 13″ Neck 8″ Length 8″
X-Small: Chest 15″ Neck 9″ Length 10″
Small: Chest 16″ Neck 10″ Length 12″
Small/Medium: Chest 19″ Neck 12″ Length 14″
Medium: Chest 22″ Neck 13″ Length 16″
Large: Chest 28″ Neck 17″ Length 20″
Product review photos: