Final verdict: Lovely and very well constructed. Tank is meant for smaller dogs, though. I like it, however, this piece is more suitable for smaller dogs who have a longer back and a small / medium torso.
Rating: 4 out of 5 stars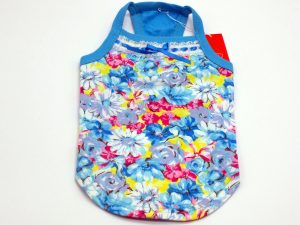 Available sizes: S, M, L.
Look / Style: Feminine and sweet, this tank is casual, but dressed up with bright floral and a touch of elegance with blue ribbon and delicate lace.
Material: Cotton spandex blend (has a little stretch).
Size guide ~
Small: 8.7″ Neck, 12.6″ Chest, 6.3″ Length
Medium: 10.2″ Neck, 15.0″ Chest, 9.1″ Length
Large: 11.8″ Neck, 16.9″ Chest, 10.6″ Length