Final verdict:
Super cute retro dress that is thin enough for spring or summer wear, however, too many loose threads left on the dress makes it less desirable.
Rating:
2.5 out of 5 stars
Available sizes:
X-Small to Large.
Look:
Cute, flirty, a bit old fashioned, ready to have fun.
Style:
Combination harness dress with large Velcro fasteners. Sweet little design touches with the flower collar, black and white vertically striped top, belt buckle, and simple skirt with a fuzzy black poodle with a rose leash motif.
Material:
100% woven cotton (no stretch).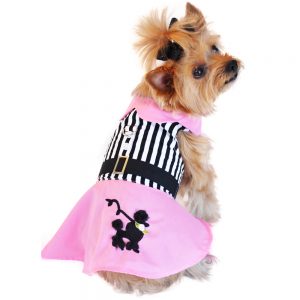 Doggie Design Pink Poodle Designer Dog Dress
Size chart:
X-Small: Back 10″ / Chest 10″-12″ / Neck 8″-10″
Small: Back 12″ / Chest 13″-16″ / Neck 11″-13″
Medium: Back 13″ / Chest 16″-19″ / Neck 14″-16″
Large: Back 14.5″ / Chest 19″-23″ / Neck 16″-19″
Product review photos: